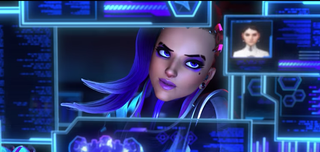 In a now-famous Overwatch video, a Korean player is banned mid-match because of his shameless hacking. He's streaming himself as Widowmaker, effortlessly flinging himself across the map and landing perfect headshots in-air. A Hanzo approaches, and in a moment, he's gone. Widowmaker's crosshairs, which were feet away from him, rubberband to his head.
A few minutes in, he's locked out of the game. Someone reported his cheating. But it's no issue—he just navigates back to the Battle.net website to make another account.
Cheating on the Asian Overwatch server is endemic and widespread. On the Battle.net forums and Reddit, complaints about hacking South Korean players' too-accurate headshots, immediate gun-downs and even DDOS attacks against winners in competitive mode are widespread. Just today, 22,865 Korean hackers were banned from Overwatch. Between January 26th and 31st alone, 3,095 accounts were suspended. Harry, the Korean Blizzard representative who reported the ban wave on Battle.net, proudly gives the numbers, but doesn't explain steps Blizzard is taking to definitively stomp out Overwatch hacking in South Korea. For months, Korean fans have begged Blizzard to stop playing whack-a-mole and address the root of their servers' endemic hacking problem.